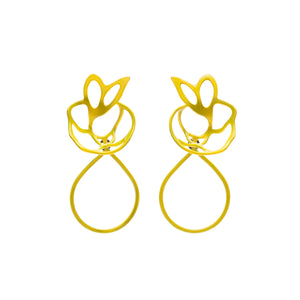 Laura Wood Studios
Lace Stud and Dangle, Golden Lux
Regular price
$320.00
$0.00
Unit price
per
Lace Stud and Dangle, Golden Lux
brass, sterling silver, powder coat
3" x 1.25" x 1.25
A design with drama and movement. As with several of the signature LWS lace styles this earring tilts outward from the face while tucking in against the upper jawline. The top climbs the earlobe while the overall shape folds outward.. A 1 ½" teardrop dangles from the bottom center of the form. This is a very lightweight earring that transitions easily from day to night.
This earring style converts well to a clip-on style, please select in the drop down menu.
Golden Lux is the first premium color to join the LWS Collection. This hue blends 18k gold with select powder coat colors to create a layered and luminous surface. 
---